What Is Employee Leasing or a PEO
(Professional Employer Organization)?
For Solutions That Make Sense!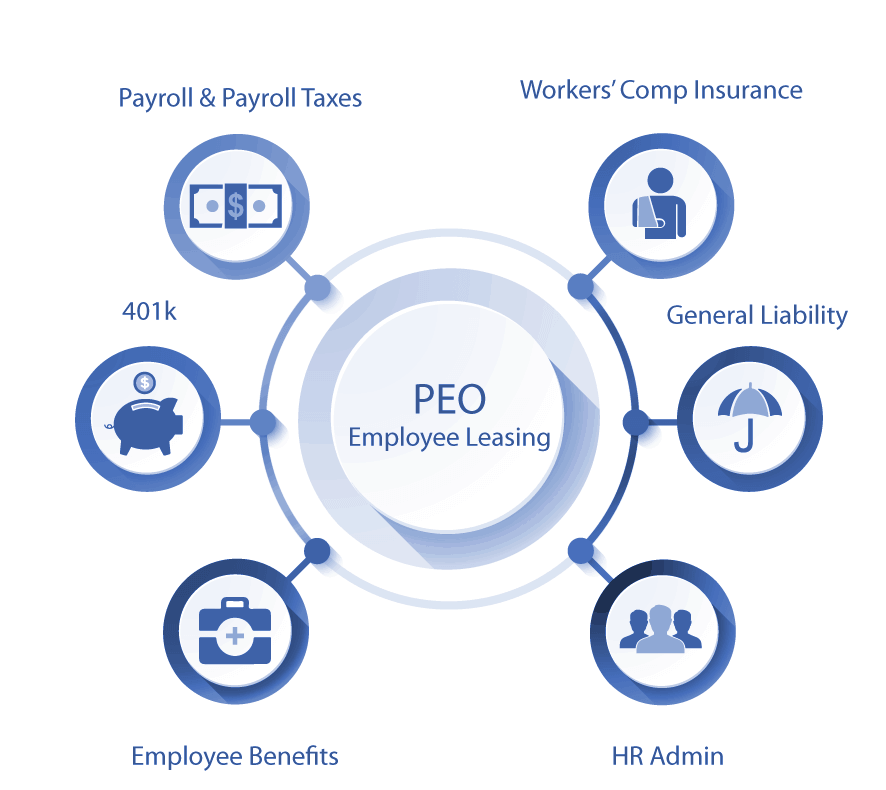 Definition of Employee Leasing?
When a Professional Employer Organization or Employee Leasing Company employs workers for any other business and/or also manages their HR-related functions, the process is known as Employee Leasing or co-employment.
Why do businesses need Employee Leasing (PEO's) or Co-Employment?
To have any business work properly, it is important to have a good workforce. Managing the infrastructure and all of the duties for a solid workforce to operate smoothly is something most companies find advantageous to outsource in order to fix the costs of both labor involved and product lines associated with their workforce team.
It's very important to keep in mind that in a PEO partnership, business owners do not lose control of various aspects of their business, including hiring/firing decisions. This is a common misconception about PEOs.
What is the difference between a Staffing (Temp to Perm) Platform from a PEO (Employee Leasing Platform)?
Staffing Companies like Temp to Perm offer the advantage to a company owner of recruitment, interviewing, placement and therefore the business owner are in a position of "trying out" the employee before they hire them under their umbrella. It is also nice to hire employees for temporary contracts so that when the job is done, there are no Unemployment claims filed against their State Unemployment Account. The temp is not eligible for benefits or 401K contributions from the Employer/Business owner unless they are hired directly to the business.
PEOs participate in what is called a "co-employment" relationship with small and medium-sized business employers. Unlike temporary staffing providers, PEOs typically do not recruit, train, or provide staff to their clients; although some PEO's have a separate division now for that need.
The way it most often works is that PEOs hire their clients' existing workforce and then assume responsibility for HR management functions like benefits, payroll, workers comp, Regulatory Compliance laws, and more. The business maintains a long-term investment and commitment to the employees but uses the PEO as a means of outsourcing the burden of HR. If the agreement between the business and the PEO is terminated, workers continue as the client's direct employees.
Placing a PEO (Employee Leasing Company) in your mix each year when doing an annual comparison on your payroll costs can be daunting but it is encouraged due to their buying power for items a business owner cannot obtain on their own so it is advisable. The downside is since you are working with different sales reps from each company and they all have different appetites on what THEY need/want to make their particular PEO profitable, the process becomes a little confusing. Some PEO's have become quite vertical marketed in a particular space.
For example, some PEO's focus on trucking while others on restaurants. They may take other types of companies also, but it is good for the business owner to know moving forward if a PEO has a good grasp of their particular industry so we help steer business owners to place in their mix a PEO that specializes in their industry due to everchanging rules, regulations and even software a particular company needs.
We like to assess what is important to you. Is it software so your employees can swap shifts? Is it lower workman's comp or health benefits rates? Is it a hard industry to cover like USL&H or roofing? It is always so exciting for us to see what challenges a potential client is facing that we can solve to make their lives easier.
The main point is that it is very important to audit your human resource costs every year whether you are navigating all of these items inhouse or currently utilizing an employee leasing company (PEO) and we can help make the process faster and more efficient!
Get your Free Consulting
or Employee Leasing Quotes
Employer's Choice Solutions offers Professional Employer Organization services to help meet your unique needs.