Documentation
How to Install Child Theme ?

Finance & Consulting Divi Theme
TESTED IN
WORDPRESS 5.1.1
DIVI 3.22.4
Finance Child Theme For Divi
Type: DIVI Theme
Latest update: April-2019
By: Divi-childthemes.com
Email: divichildthemes@gmail.com
Download the Child Theme
First of all, thank you so much for purchased our Product. We're really appreciated it and hope you enjoy it!
If you have any questions that are beyond the scope of this help file, feel free to post at www.divi-childthemes.com/support/.
We will do our best to answer you in shortest of time (24-48 hours usually).
Before contacting support, please make sure you have followed the setup guide as there may already exist the answer to your question there.
About Finance Child Theme
Finance & Consulting Divi Theme is a clean and Modern Divi Child Theme.
Finance & Consulting Divi Theme is best suited for corporate website like Financial Adviser, Accountant, Consulting Firms, insurance, loan, tax help, Investment firm etc.
This is a business Child theme that is help full for online presence for Corporate Business and Financial Firms.
This Child theme comes with necessary features for your online presence like portfolio, blog, testimonial and personal profile page etc.
Finance & Consulting Divi Theme can be a great choice for your online presence.
It is super responsive and easily customize able template.
How to Install Theme
Before beginning the installation and configuring of your new theme, you must first have WordPress and Divi with latest version installed on a server.
FILES INCLUDED
1) Industry Child Theme Zip file – DCTFinance.zip
2) Help Document
INSTALL Finance & Consulting CHILD THEME
Follow the below steps to install Finance Child Theme into your WordPress. You will find the zip folder DCTFinance.zip
There are two ways to install the theme into WordPress
• Installing through WordPress admin dashboard
• Uploading WordPress through FTP
INSTALLING THROUGH WORDPRESS ADMIN DASHBOARD
1) Loin into your WordPress admin
2) Go To: Appearance -> Themes
3) By clicking "Add New", upload Finance-divi-child-theme.zip theme
4) Once uploaded done, click Activate link in Finance-divi-child-theme. Now theme has been activated for your use.
1) Extract zip file DCT_Finance.zip
2) Upload this extracted files into WordPress installed folder wp-content/themes
3) Login into the WordPress admin dashboard.Go To: Appearance -> Themes
4) Now Activate the theme
INSTALL REQUIRED PLUGINS
Follow the below steps to install the required plug-ins for DCTFinance Child Theme.
ONE CLICK – DEMO CONTENT IMPORT
Follow the below steps to import the demo content.
After Completed One Click Demo Import, Import dctindustrial_theme_options.Json
Go to Dashboard > Divi > Divi Theme Options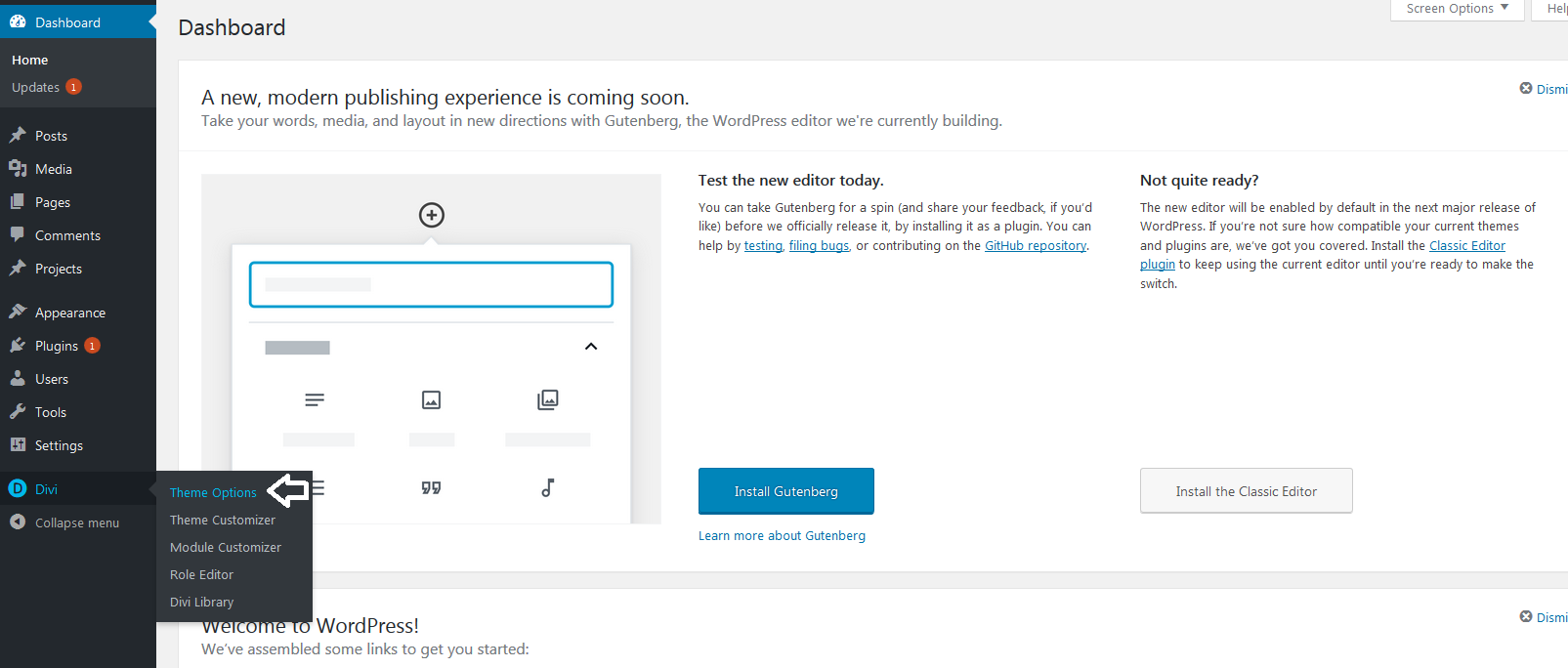 After Completed One Click Demo Import, Import dctindustrial_customizer_settings.json
Go to Dashboard > Divi > Theme Customizer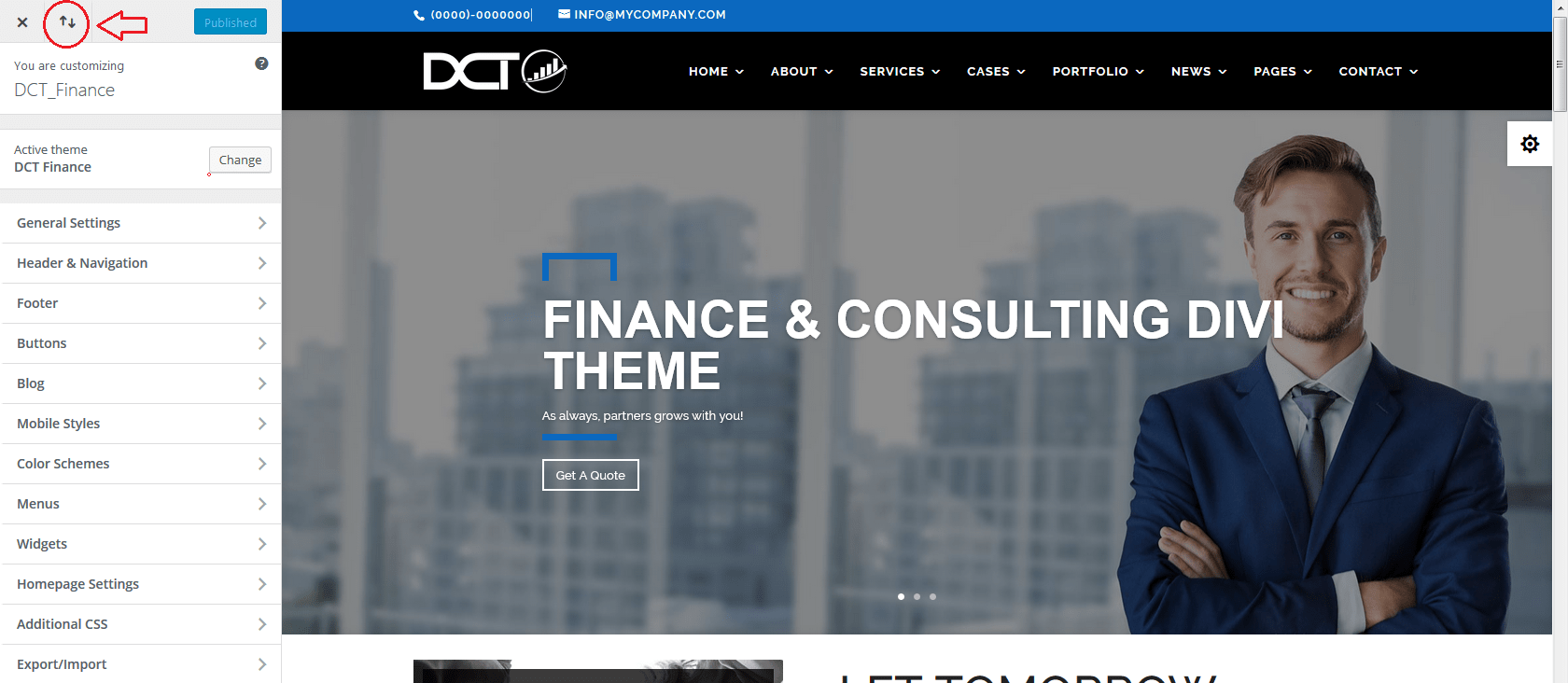 Now In Menu Setting Go to Dashboard > Appearance > Menus
In Menu Setting , First of all Select a menu to edit: dct-top-menu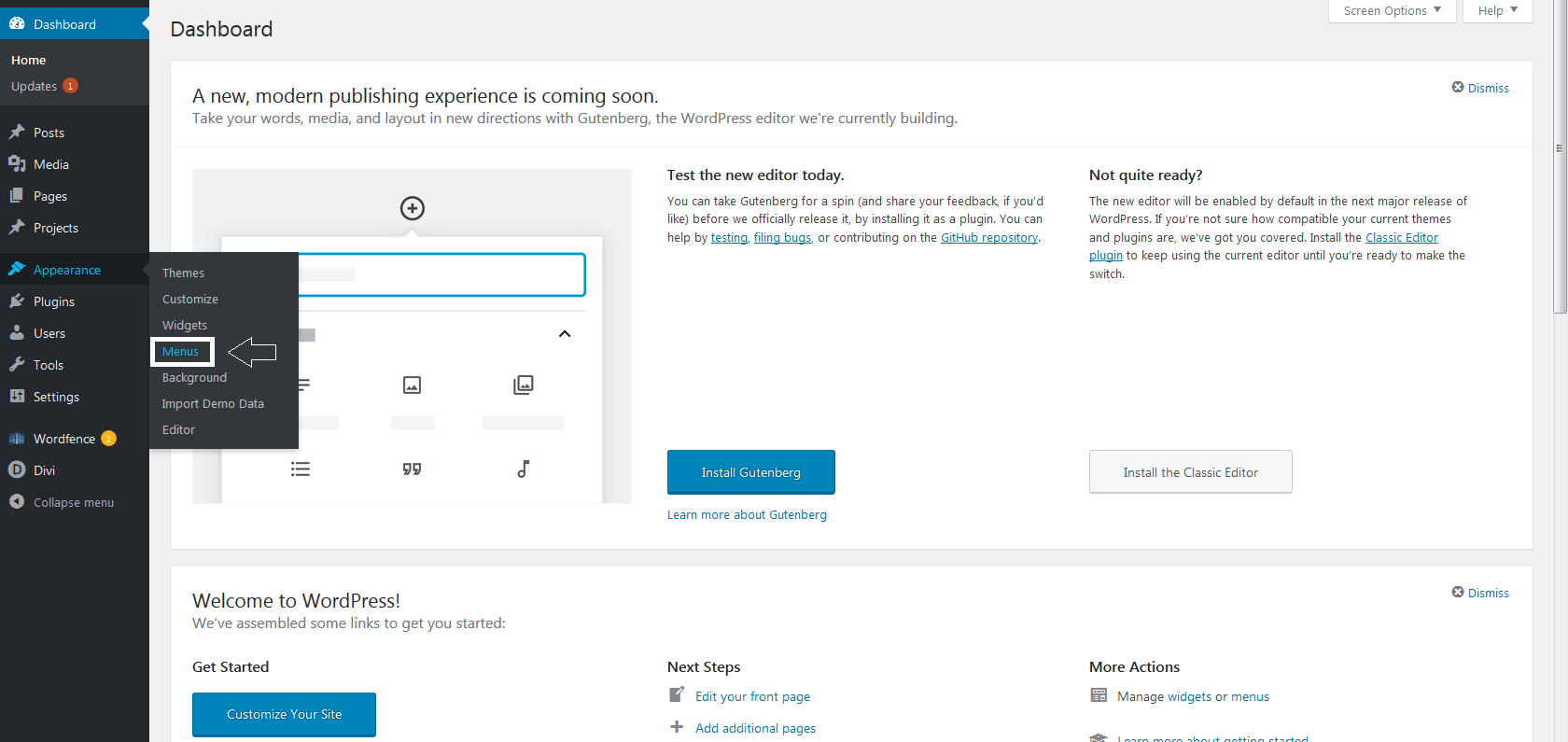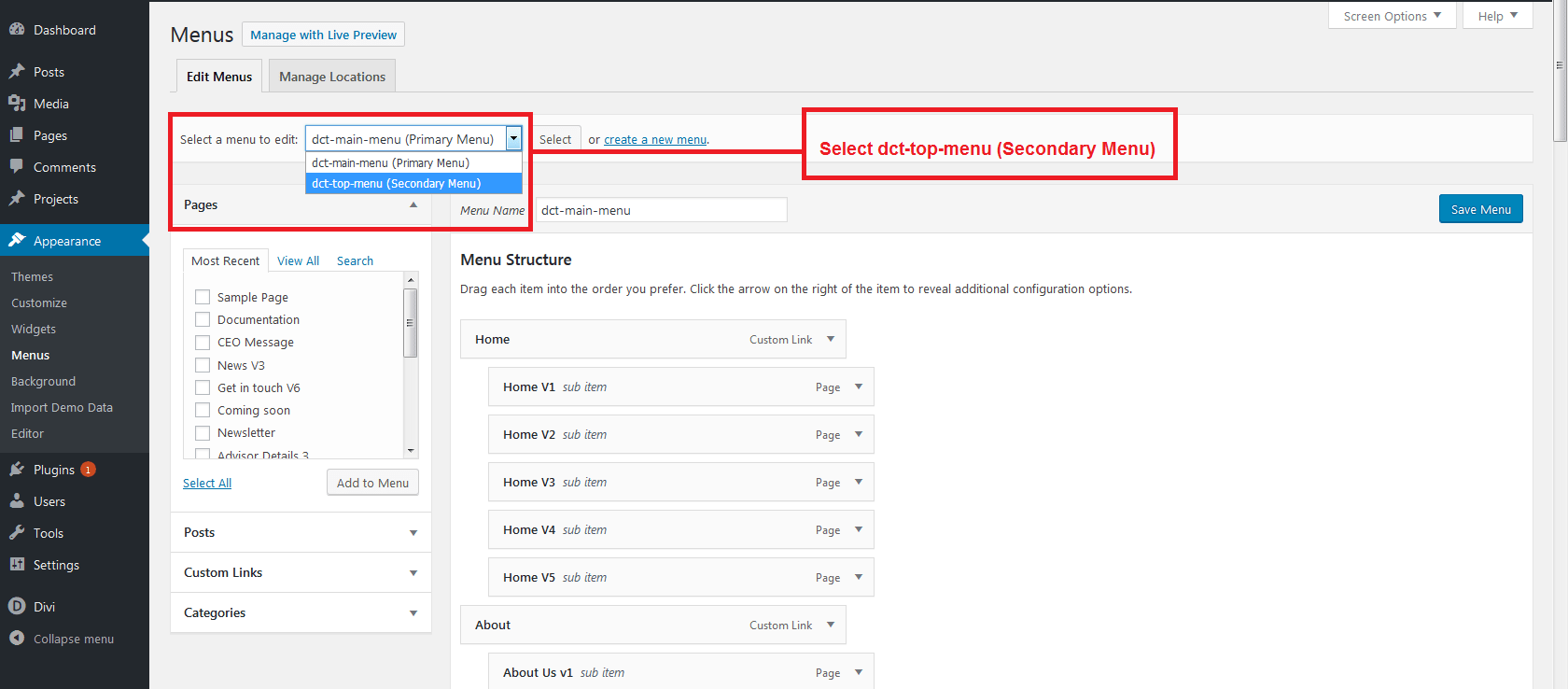 After that In Menu Settings, Dispaly location > Select Secondary Menu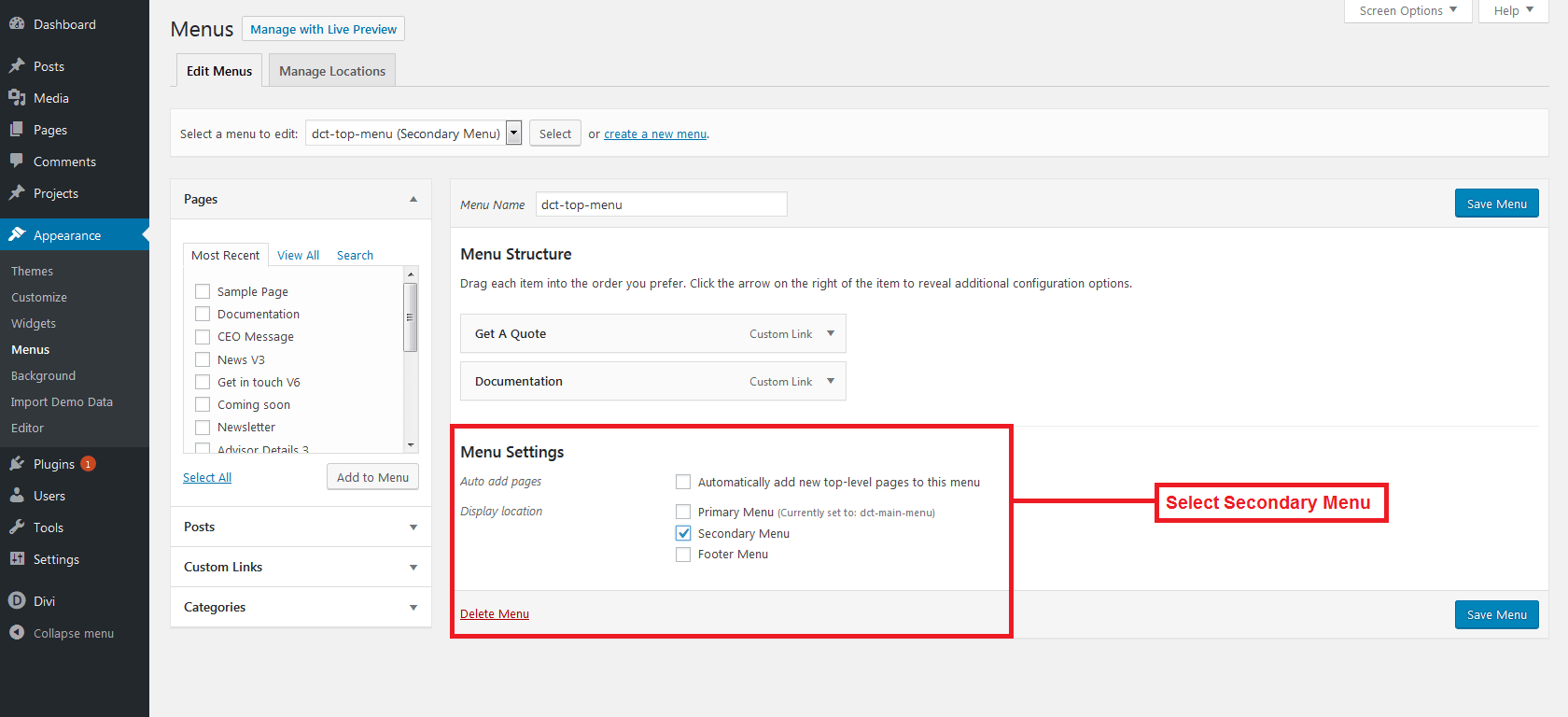 Finance & Consulting Divi Theme
SUPPORT
For support, please mail us to divichildthemes@gmail.com